Le Blog Japan WC - Presse
WITH JAPAN WC,
JAPANESE TOILETS ARE COMING TO FRANCE
FILE OF 29/11/2021 - In partnership with Médias France
More hygienic, more ecological and more suitable for people with reduced mobility, the Japanese toilets from Japan WC never cease to convince. Icing on the cake, their design is particularly attractive.
A nice surprise in Japan
While fulfilling his dream of discovering Japan, its atmosphere, its gastronomy and its deeply rooted culture, Guillaume Selva is surprised by an unexpected element: the toilets. Indeed, in the land of the rising sun, temple of new technologies, the toilets are real jewels of modernity, with a futuristic design, which allow you to clean and dry yourself while remaining comfortably installed. Thus, on his return to France, the traveler brings back an idea in his suitcase: to popularize in France these Japanese toilets. "The French population is accustomed to the sole use of toilet paper, but our products have a number of features that provide comfort and optimal cleanliness to their users," explains Guillaume, founder of Japan WC. t83>

More hygienic and easier cleaning
The French company therefore offers Japanese toilets for all budgets: complete installations, but also electric toilet seats to fix and Japanese bidets to install yourself. Thanks to their water jet, the power and temperature of which are adjustable, the Japanese toilets from Japan WC gently clean the private parts, but above all with much greater efficiency than using conventional toilet paper alone. The toilets are also equipped with a drying function, for a complete and ecological cleaning. Finally, after each use, the spray heads are self-cleaning. These innovative products, with an elegant, refined and futuristic design, also allow the elderly or people with disabilities to access autonomy in terms of intimate hygiene.
Traditional Japanese bathtubs
To continue its sharing of the Japanese tradition with increasingly curious French people, Japan WC also offers Japanese wooden bathtubs, designed by hand, which bring a unique cachet to a bathroom. "In addition to the aesthetic aspect which allows you to bathe in a soothing and natural atmosphere, they have the particularity of retaining the heat for a long moment of relaxation. The heat retained by the cedar wood allows the dilation of blood vessels and contributes to good cardiovascular function," adds Guillaume. The Japan WC company supports its customers in the best possible way in the choice and installation of toilets with expert customer service for its products.
In order to respond to a recurring request from customers who rightly wish to be able to view the different models presented for sale, the rapidly expanding company plans to open its first physical store in 2022, in or around Paris. Japan WC will also offer its products to nursing homes, retirement homes and hospitals, as well as hotels in order to make these technological tools with an elegant and refined design available to as many people as possible.
Experience the magic of onsen from home!
These hot spring baths of volcanic origin, established as a true way of life in Japan, are sources of well-being and relaxation, both for body and mind. What if the onsen really came to your bathroom?
The Japanese hot spring bath: a hedonistic pleasure
The Japanese thermal bath is an ancient tradition. Many myths and legends have their origins in the onsen, which had their own deities, the kami.
The onsen – a word that designates both the source, the place and the bath itself – are located in the countless spa towns of the Japanese archipelago, in the mountains. Volcanic springs renowned for their therapeutic properties because they are rich in mineral salts. Very popular with Japanese people, we usually meet there with friends, family and sometimes even with colleagues. We share a moment of absolute relaxation away from the hustle and bustle of the city, and we can socialize there...in silence. Finally, we go in naked, and...clean.
Japanese bathtubs: the Japanese art of living at home
Established in 2020, Japan WC is a young company that allows us to have this experience from our bathroom. With these handmade Japanese bathtubs – called ofuro and which the Japanese use themselves – you can recreate the world of onsen at home. and experience an exceptional moment of relaxation.
Count on the delicious and typical smell of cedar wood – a material that retains heat longer and with which the bathtubs are made – to transport you directly to the heights of the Japanese peaks.
To complete the experience, why not enhance the water with Lemon Eucalyptus or Rosemary essential oils, which are ideal against rheumatism, or even Juniper essential oils to eliminate toxins?
Sitting on a buttocks rest provided for this purpose, just close your eyes and relax...Mount Fuji is only a few kilometers away.
Several looks and sizes of baths are available to suit all tastes, budgets and bathroom sizes: round baths of 150, 120 or 100 cm in diameter or classic-shaped baths. And if you only have a limited space, Japan WC also offers a round acrylic bathtub, thus clearing a place of choice like a shower in a bathroom.
Japan WC: bathtubs, but not only
The name Japan 'WC' must not have escaped your notice: no, this company does not only offer handcrafted Japanese bathtubs. It was during a trip to Japan three years earlier that Guillaume Selva, a lover of manga and Japanese culture, discovered...Japanese toilets!
An object that very often triggers, among us French people, a mixture of amazement, curiosity and enthusiasm. And for good reason: immediately tried, immediately adopted.
Japan WC also specializes in Japanese toilets, toilet seats and bidets. A wide range that makes it possible to offer this ideal water jet sanitary system for intimate hygiene at all budgets.
From ultra-design Japanese toilets – black, wall-hung or mini – to modern electric toilet seats, these little jewels of technology, which are both efficient, economical and ecological, fit perfectly into our interiors, and are also adapt to the needs of individuals with reduced mobility, such as the elderly or disabled, and children.
Finally, ideal for small budgets, the Japanese bidet can be installed with disconcerting ease, and can be removed just as easily. No need for major work and it will guarantee you optimal hygiene.
Article from the Journal de la Maison: https://www.lejournaldelamaison.fr/le-journal-de-la-maison/designers-le-journal-de-la-maison/nouveautes-designers-le-journal- home/live-the-magic-onsen-at-369599.html
.
The Japanese way of life
Fascinated by Japanese culture, Guillaume Selva embarks on a journey to the land of the Rising Sun. An immersive epic from which he brings back in his luggage an innovative idea: the Japanese toilet. Seduced by their many features as well as by their futuristic aesthetics, he aims to popularize them in France. Two years ago, he founded his beautifully named company Japan WC. Success is immediate!
Japanese toilets with a sleek design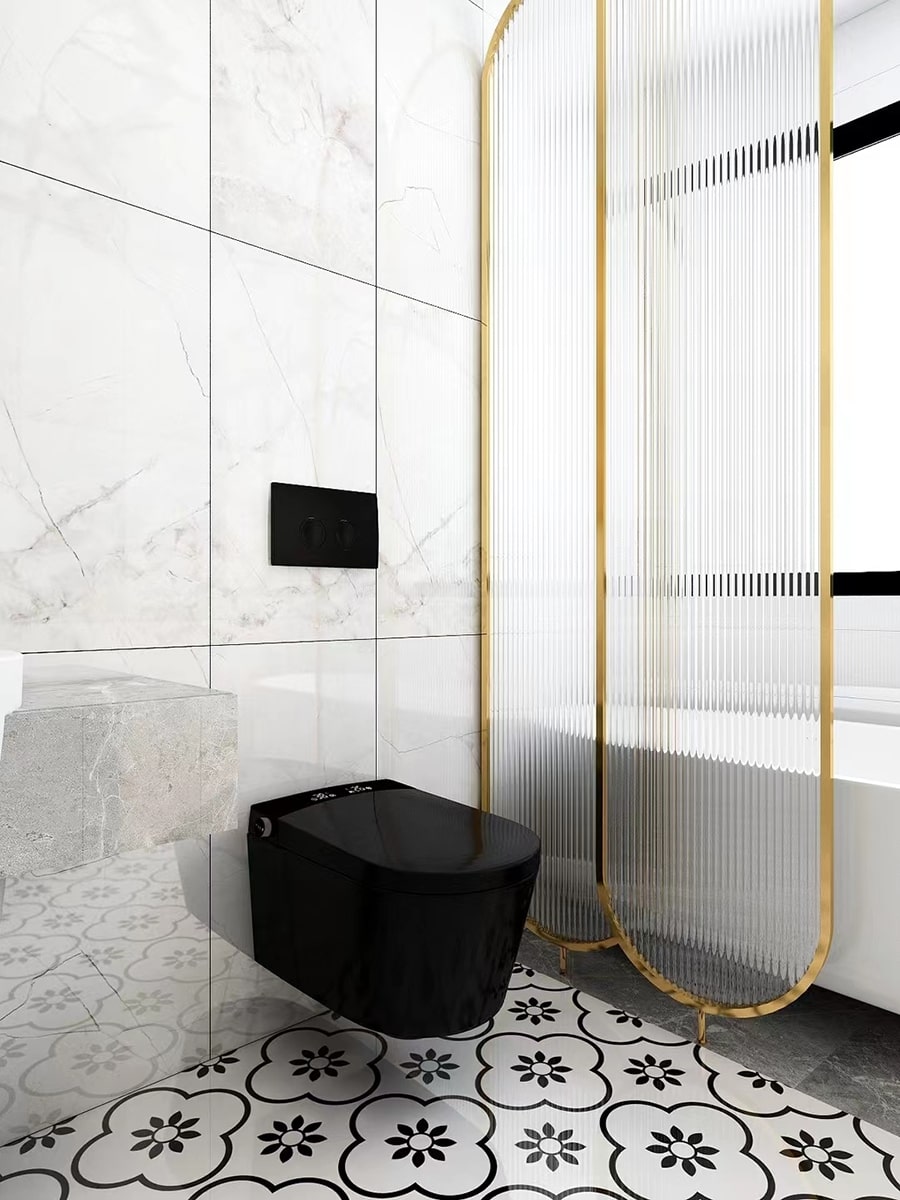 The different ranges marketed by Japan WC offer quality products with elaborate designs. The elegant and refined rendering transforms your toilet into a piece of decorationin its own right. The goal ? Pave the way to hygiene through water thanks to an adjustable power jet and original and contemporary products. Easy to install, electric toilet seats transform any toilet into a Japanese toilet. Equipped with a washing, drying and deodorizing mode, Japanese toilets are operated intuitively using a remote control. Combining performance and ecology, they integrate with disconcerting ease into all interiors. The multiplicity of colors, ranging from the classic white WC to the most surprising black WC, makes it possible to satisfy all requests. The brand's best-seller? The "Fuji" wall-hung black toilet that brings a certain cachet.
Bathtubs inspired by
onsens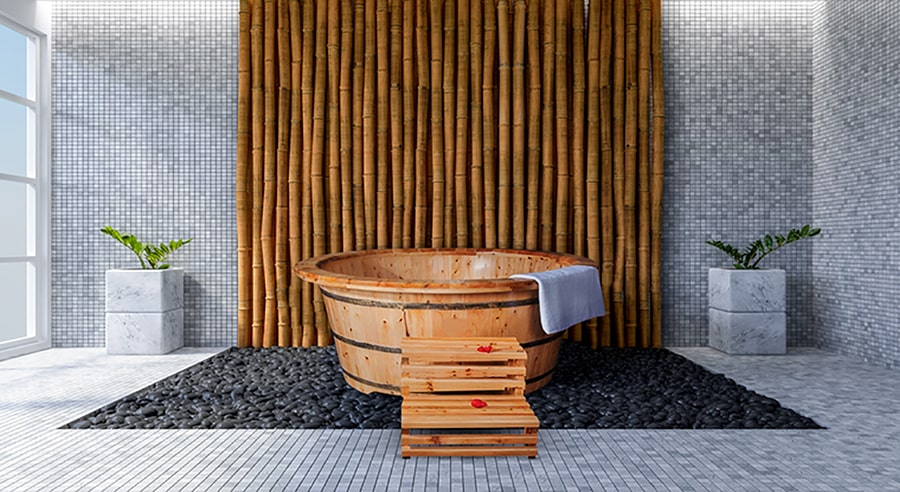 Anchored in the ancestral culture of Japan, onsens are hot springs in which the Japanese love to bask. In order to reproduce this moment of relaxation at home, the Japanese "Ofuro" bathtubs offer an intoxicating experience. Beyond the sublime aesthetics of these round or rectangular bathtubs, handmade, in cedar wood, it is the beneficial soothing effects on health that we will appreciate. Matched with a stepladder, a buttocks rest and a large spoon, the Japanese bathtubs transport you for the time of a bath...
Present on various marketplaces, Japan WC also has a website that delivers anywhere in France.
Demande de Collaboration ?
Suivez-nous sur les médias sociaux